Do your potential investors know how good you really are?
How is your Economic Development Organization doing with business content and communication essentials?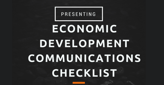 Communication is the root of all sales. Here's a Free Economic Development Communications Checklist to establish what you do well and where you can improve. Go through this checklist and then get a free consultation to discuss your results and work out your next steps to attracting more investors to your region!